featuring the Thrissur Pooram
No one can traverse the whole of India and not feel the palpable difference between North and South. The dominant features of South India are its tropical climate with lush-green tropical vegetation in the coastal areas, as well as its architecture, cuisine, culture, languages and lifestyle. In spite of repeated exposure to foreign influences, these elements have, at their core, remained essentially Dravidian.
On this Southern sojourn, traversing through Karnataka and Tamil Nadu and Kerala, we explore the unique and breathtaking architecture, sculpture, ancient culture and legacy left by the Pallava, Chola and Pandya dynasties. We learn how India has absorbed the influences of so many waves of colonizers and yet has remained distinctly and proudly Indian. We finally partake in one of Kerala's colorful festivals and also enjoy two days exploring the canals that make up the back waters of the Arabian Sea from a deluxe houseboat.
Outline Itinerary
2011
Day 1, Feb. 13: DEPART USA
Day 2, Feb. 14: EN ROUTE TO INDIA
Day 3, Feb. 15: ARRIVE CHENNAI – Most international flights arrive in Chennai (Madras) early morning. Upon arrival, we will make the short drive to the beach resort of Fisherman's Cove, where we will have the opportunity to relax and explore this idyllic coastal area and the nearby "World Heritage" site of Mahabalipuram.
Day 4, Feb. 16: EXPLORING MAHABALIPURAM – Today we will enjoy Tamil Nadu's travelers' enclave in the coastal village of Mahabalipuram. We will visit the "World Heritage" sites of the Five Rathas and the Shore Temple, majestically facing out across the Bay of Bengal.
Day 5, Feb. 17: TO MADURAI – Later in the day, we will fly to the ancient city of Madurai, which dates back to the 4th Century. Once the Meenakshi Temple was built, Madurai became the cultural center of the Tamil people. The balance of our day is spent enjoying a walking tour of the bazaar.
Day 6, Feb. 18: EXPLORING MADURAI – Spend the day visiting the awe-inspiring Meenakshi Temple, whose complex occupies an area of six hectares. Its twelve gopurams (towers), ranging in height from 45 to 50 meters, are decorated from top to bottom in a breathtaking profusion of carved, multicolored images of gods, goddesses, animals and mythical figures.
Day 7, Feb. 19: TO MYSORE – Today we fly to Bangalore and then make the 2-3 hour drive to Mysore, visiting the Jain site at Sravanabelgola, with its towering monolithic statue of Gomateswara, en route.
Day 8, Feb. 20: EXPLORING MYSORE – Full day to explore the "Sandalwood City." Climb the 1000 steps to the Sri Chamundeswari Temple on Chamundi Hill, and visit the City Palace and Museum.
Day 9, Feb. 21: TO NAGARHOLE – This morning drive 4-5 hours to Nagarhole National Park. Late afternoon or early evening take a safari excursion into the Park.
Day 10, Feb. 22: EXPLORING NAGARHOLE – Full day to explore Nagarhole, including 4-wheel drive safari, in search of the elusive tiger and other wildlife. Option to take a 3-4 hour rafting excursion on the Kabini River.
Day 11, Feb. 23: TO THRISSUR – Leaving Nagarhole, we head to Kerala and the wonderful city of Thrissur. Home to several temples, and considered a major cultural center in Kerala, Thrissur is home to the annual Thrissur Pooram, Kerala's most spectacularly colorful religious festival.
Day 12, Feb. 24: THRISSUR POORAM FESTIVAL – We spend the full day visiting the Thrissur Pooram, with its plethora of colorfully caparisoned elephants. The Thrissur Pooram draws thousands of pilgrims from throughout South India, and will provide us with an unforgettable experience and insight into the vibrant religious festival tradition of the South.
Day 13, Feb. 25: BACKWATERS OF KERALA ON HOUSEBOAT – We will depart Palakkad early morning to venture further into the beautiful state of Kerala, described as "God's Own Country." We arrive in the Alleppey region to board our private deluxe houseboat and begin our cruise of the scenic Keralan backwaters.
Day 14, Feb. 26: BACKWATERS OF KERALA ON HOUSEBOAT - On this comfortable floating home, we spend the day relaxing along the backwaters, letting all our worries slowly float away. As we cruise along the backwater canals of the Arabian Sea, we may choose to stop and explore some of the many small villages, old temples and churches that we come across.
Day 15, Feb. 27: EXPLORING COCHIN – This morning we disembark the houseboat and drive to historic Cochin. We will have the remainder of the day to leisurely explore this seaside community, with its charming colonial-era architecture. In the evening, we will be treated to an Indian traditional Kathakali dance performance and have an opportunity to meet with the performers.
Day 16, Feb. 28: IN COCHIN & DEPART TO USA – We have most of the day today to continue exploring Cochin. This evening transfer to Cochin's airport for flight to Bangalore or Chennai for connecting flights to the USA. Departures will leave Bangalore or Chennai late night Day 16 or early morning on Day 17.
Day 17, Mar. 1.: ARRIVE USA
Suggested Extensions:
QuickEscapes – North India
Explore the Imperial Cities of India – Delhi, Agra & Jaipur. These were the capitals of the Rajput, the Mughal and the British, the three major influences on India in the last 500 years.

QuickEscapes – Mountains
Visit the Hill Stations of Kalimpong and Darjeeling offering fabulous views of the high Himalaya. Everest, Kanchenjunga, Makalu can all be viewed from Tiger Hill, above Darjeeling.
Call us toll free at 1-800 MY INDIA (1-800-694-6342) or email us to request a detailed day-to-day itinerary.
Of course India is so rich in temples, monuments, forts, palaces, history, exotic sights and sites — but best of all it has kind, warm, gracious, friendly people.
- Jerry Fonseca, CA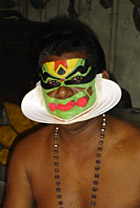 Kathakali dancer
Features:
World Heritage sites in Mahabalipuram, Madurai & Mysore
Tigers & Asian Elephants in Nagarhole Game Park
Kochi (Cochin)
"Rath" Temple Festival
Houseboating
Ayurvedic Spa
Luxury hotels

It's Included:
Medical & evacuation insurance
All hotels, meals, ground transportation, local guides and entrance fees
Fully escorted trip
Departures:
Thrissur Pooram:
Feb. 13 - Mar 1, 2011
Land Cost:
8-10 participants: $5885
11+ participants: $5285
Meenakshi temple, Madurai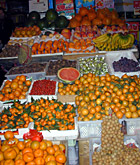 Fruit stall
Temple Elephant Festival

Along the Kerala Canals