A Photo Cultural Tour of Rajasthan
with Photographer Jeff Davis
featuring the Pushkar Camel Fair

.kakdjfgiieuyfgerjfkjdhgnkjhfg

Destination Himalaya's Photo Tour to Rajasthan incorporates the Camel Fair at Pushkar where hundreds of villagers, nomads and gypsies gather, bringing with them thousands of camels, horses and cattle – truly an amazing sight. An entire tent city springs up overnight to accommodate all the bartering and bantering, purchasing and merry-making.

In addition to the festivals, the itinerary is designed to have ample time exploring and photographing the "blue city" of Jodhpur, the "pink city" of Jaipur and reaching Agra, with time to photograph the rising and setting sun light up "the monument of love" the Taj Mahal. One of our favorite regions, Rajasthan is a wonderful destination, for both the photographic enthusiast and the ardent traveler.

An excellent photographer, Jeff Davis is also a compelling storyteller and a skilled teacher. He will assist you in every way, enabling you to bring home wonderful memories, suitable for framing. Reflecting on his past trips to Rajasthan, Jeff says, "As a professional photographer, my experiences in Rajasthan were magical. Not only did each day provide stunning visual imagery, but treasured encounters, a sense of spirituality, and reflections that linger in a wonderful way."

Outline Itinerary

Days 1 & 2: USA to India.

Day 3 : Arrive Delhi very early in the morning. Free morning and in the afternoon explore the bazaars of "Old Delhi." Oberoi Hotel.

Day 4: Early this morning we fly to Jodhpur and drive to the Desert Citadel City of Jaisalmer. Hotel Fort Rajwada.

Day 5: We have the full day to explore and photograph this frontier town. Camel safari and photography on sand dunes. Hotel Fort Rajwada.

Days 7 & 8: These two days are spent visiting remote Rajasthani villages from our Desert Retreat. Private Deluxe Camp.

Day 9: Drive to Jodhpur and spend the day photographing the "Blue City, " (see banner photo). Umaid Bhawan or Taj Hari Mahal.

Day 10: Visit Mehrangarh Fort and Jodhpur bazaar. Umaid Bhawan or Taj Hari Mahal.

Day 11: Drive to Pushkar (or Nagaur) and the camel fair. Private Deluxe Camp.

Day 12: Spend the day photographing and partaking in festivities surrounding the Camel Fair. Private Deluxe Camp.

Days 13 & 14: Drive to Jaipur the Pink City. Two days to photograph the people and architecture of Jaipur. We will visit Amber Fort, City Place, Hawa Mahal and the old bazaar - a shopper's paradise. Rambagh or Jai Mahal Palace Hotel.

Day 15: To Agra via the the ghost city of Fatepur Sikri, built by Emperor Akbar as his Capital and then abandoned. Taj View or Mughal Sheraton

Day 16: We will have sunrise, sunset on the shimmering Taj Mahal, one of the architectural wonders of the world. Also visit and photograph other sites in Agra. Taj View or Mughal Sheraton

Day 17: One more opportunity to photograph the Taj at sunrise. Drive to Delhi. After a sumptuous farewell dinner we depart for Delhi airport and our flight back to the USA.

Day 18: Arrive USA

Please visit our slide show page to see a sample of Jeff Davis's work and images from Rajasthan.

Suggested Extensions: Other itineraries featuring Rajasthan:

Call us toll free at 1-800 MY INDIA (1-800-694-6342) or email us to request a detailed day-to-day itinerary.
"Tours with a photography element has been our major hobby for 30 years. Various Tour Companies have taken us to 17 countries and all 7 continents. None has been better than our tour of Rajasthan with Destination Himalaya."
- Bob & Marlene W, CA
Rajasthani miniature
Features:
Camel Fair at Pushkar
Sunrise on the Taj Mahal
Camel Safari
Remote Villages
Jodhpur, Jaisalmer, Agra, Jaipur, Delhi.
It's Included:
Medical & evacuation insurance
Accommodation in Palace Hotels and Private Deluxe Camp at the camel fairs
All ground transportation, local guides and entrance fees
All meals after arrival in India
Fully escorted trip by a Photography Expert and Cultural Guide


Departure:
Pushkar Festival:
Nov. 7 to 24, 2007
Land Cost:
From $6485 per person
Jaisalmer
Photo: Jeff Davis
"Jeff, our professional photographer guide gave excellent tuition at all times. Interacting well with local people he created for us those "natural, best light" portrait photo ops."
- Michael L, CA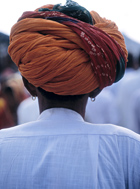 Rajput at the camel fair
Photo: Jeff Davis
Rajput woman
Photo: Jeff Davis