Tiger , tiger, burning bright
In the forests of the night,
What immortal hand or eye
Could frame thy fearful symmetry?
- William Blake
On this safari we visit Kaziranga, home of all of the Asia big game – tiger, rhino, bear, elephant and bison - exploring the park on elephants and 4-wheel drive vehicles. We then travel to Central India and explore Kanha, home to the largest population of tiger in the Indian sub-continent and probably the only park where tiger sightings are virtually guaranteed. See the rare Siberian Crane on its annual visit to Bharatpur, the largest migratory bird sanctuary in Asia.
Outline Itinerary
Day 1: DEPART USA

Day 2: EN ROUTE TO INDIA

Day 3: EXPLORING KOLKATA - Most international flights arrive in Kolkata very early in the morning. Met on arrival and escorted to your hotel. This afternoon we will tour and explore historic Kolkata, one-time capital of the British Raj. Visits to Hooghly River harbor, Mother Teresa's House and Victoria Memorial. Tonight we will be treated to a traditional Indian "Welcome Dinner."

Day 4: TO KAZIRANGA NATIONAL PARK - Today we will fly to Guwahati and travel by car to Kaziranga National Park in Assam - home to the Asian "big game" - elephants, one-horned rhinos, bears, bison and tigers all call Kaziranga home. This evening we will take our first game excursion into the Park.

Days 5 & 6: EXPLORING KAZIRANGA - We have two full days in which to leisurely explore and photograph the Park and its abundance of wildlife. We use both elephants and four-wheel drive jeeps for our sunrise and sunset safaris into the Park.

Day 7: TO KOLKATA – This morning we drive to Guwahati for our return flight to Kolkata. The balance of the day is at your leisure to relax or continue your exploration of Kolkata.

Day 8: TO KANHA NATIONAL PARK - Fly to Raipur, in the heart of India, and then continue by car to Kanha Tiger Preserve.

Days 9 & 10: EXPLORING KANHA NATIONAL PARK - Kanha was the inspiration for Rudyard Kipling's classic "Jungle Book" stories. This unique tiger preserve is home to some twenty-two species of mammals and has the largest population of tigers in India. During our sunrise and sunset excursions into the park, we will look for this elusive and majestic feline.

Day 11: TO BANDHAVGARH NATIONAL PARK – Departing Kanha, we continue our tour of India's prominent big-game parks with as we travel to Bandhavgarh National Park. The park is located in one of India's last remaining areas of substantial forest, in what was originally part of the princely state of Rewa, home of the rare white tiger.

Days 12 & 13: EXPLORING BANDHAVGARH NATIONAL PARK - We have two full days to explore Bandhavgarh, with sunrise and sunset game excursions, and elephant safari, in this fantastic wildlife park. Though small, the park abounds in many of India's endangered animals--spotted deer, sambar, barking deer, nilgai, blackbuck, four-horned antelope, gaur (Indian bison and largest of the world's oxen), sloth bear, leopard, and the royal Bengal tiger. Daytime sightings of tiger are more likely at Bandhavgarh than at any other preserve in India.
Day 14: TO KHAJURAHO – We have one final sunrise game excursion into Bandhavgarh before we drive to Khajuraho.

Day 15: EXPLORING KHAJURAHO & TO DELHI – This morning we will visit the millennium-old Chandela temple complex. Early afternoon we fly to Delhi. Tonight we will gather for special "Farewell Dinner" at one of Delhi's "hot" restaurants. After dinner we transfer to the airport for departing flights to the USA.

Day 16: ARRIVE USA
Suggested Extensions:
QuickEscapes – Temples
During this week-long southern sojourn we visit the most important World Heritage sites in South India: Madurai, Tanjore, Trichy and end with a couple of days relaxing in Mahabalipuram on the Bay of Bengal.

QuickEscapes – North India
Explore the Imperial Cities of India – Delhi, Agra & Jaipur. These were the capitals of the Rajput, the Mughal and the British, the three major influences on India in the last 500 years.
Other itineraries featuring Wildlife viewing:
Call us toll free at 1-800 MY INDIA (1-800-694-6342) or email us to request a detailed day-to-day itinerary.
Detail, Mughal miniature
Features:
Kaziranga National Park
Kanha Tiger Preserve
Bharatpur Bird Sanctuary
Agra, the Taj Mahal
Jaipur, Amber Fort
Delhi
It's Included:
Medical & evacuation insurance
All hotels, meals, ground transportation, local guides and entrance fees
Fully escorted trip
Departures:
Feb. 27 – Mar. 15, 2012
Nov. 13 - 30, 2012

Land Cost:
6-9 participants: $6385
10+ participants: $5885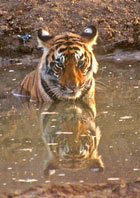 Tiger cooling off
Gaur (Indian bison)
Sambar deer