Featuring the Tangbi Mani Festival
Bhutan is an immensely beautiful and serene land, and is a place where the Buddhist faith of its people remains the nation's most vital cultural force. The Bhutanese joyously express their fervent faith during their festivals; in particular, the annual Tangbi Mani is one of Bhutan's most preeminent Buddhist festivals.
The Bumthang Valley is considered one of the most beautiful valley locales in Bhutan. People from all over the country gather at Tangbi to pay their respect and in turn be blessed at the Mani festival. Dressed in their finest clothes and jewelry, Bhutanese people attend the Tangbi celebration of purification and religious blessings. Arrays of colorful brocades whirl through the air as the dancers spin and dance the "thunderbolt step." Masks of glorious demonic demons and animals arouse your senses as you watch the purification take place.
Outline Itinerary – 2011
Days 1 & 2, October 3 & 4: USA to Bangkok.
Day 3, October 5: Arrive Bhutan
The flight into Bhutan takes you close to the great Himalayas, offering dazzling scenic views of some of the world's highest peaks. We drive to Thimphu, Bhutan's capital and spend the afternoon photographing the city.
Day 4, October 6: Exploring Thimphu
Today we will visit the local bazaar where everyone goes to buy fruit and vegetables, rice, grains, chilies and other fresh foods - a great portraiture day.
Day 5, October 7: To Punakha/Wangdi Valley
A landscape photography day as we drive to Punakha, over Dochu-la pass (3,088m/ 10,130 ft), with impressive views of many towering mountain peaks.
Day 5, October 8: Exploring Punakha/Wangdi Valley
We get up close to rural Bhutan as we hike past (and photograph) terraced rice fields to the temple of Chimi Lhakhang.
Day 6, October 9: To Bumthang
Explore Wangduephodrang Dzong and then continue our drive over Pele-la pass (3,300 m/10,800 ft) to Trongsa.
Day 7, October 10: Reach Bumthang
Day to visit and photograph Trongsa Dzong, built in 1648, and was the seat of power over central and eastern Bhutan. Driving over the Yutong-la pass (3,400m/ 11,155 ft) we reach Bumthang.
Days 8 & 9, October 11 & 12: At Tangbi Mani Festival
Two full days to partake in and photograph the festivities at the Tangbi Mani (the annual festival at Tangbi Monastery). People from all over Bhutan gather at Tangbi to pay their respects and in turn be blessed at this social gathering. Dressed in their finest clothes and jewelry, Bhutanese people from all over Bumthang and eastern Bhutan attend the celebration.
Day 10, October 13: To Gantey Valley
Today we head to Gantey Valley, one of the most beautiful spots in Bhutan. We will explore and photograph Gantey village and the monastery.
Day 11, October 14: Paro Valley
A few kilometers beyond the Gantey Monastery, we visit the village of Phobjikha before continuing on to our next destination, the idyllic Paro Valley.
Day 12, October 15: Paro Valley / Taktsang Monastery
On our last day in Bhutan we visit the most famous of Bhutanese monasteries, Taktsang, Guru Rinpoche's "Tiger's Nest". This evening we will take a stroll around Paro market and the town before enjoying our Farewell Dinner.
Day 13, October 16: Depart Bhutan
Today we leave Bhutan, taking the return flight from Paro to Bangkok.
Day 14, October 17: Arrive USA.
Other Photo Cultural Journeys:
Suggested Extensions:
Other itineraries featuring Bhutan:
Call us toll free at 1-800 MY INDIA (1-800-694-6342) or email us to request a detailed day-to-day itinerary.
"Jeff.........You were great in every way; a leader, a coach, a mentor, a motivator, a friend. Rest assured I will tell everyone I meet what a wonderful experience it was and to any photographer that they should try it."
- Michael L, CA
Attending the festival
Features:
Tangbi Festival in Bumthang
Thimphu, Punakha
Trongsa, Bumthang
Paro Valley, Taktsang
It's Included:
Medical & evacuation insurance
All hotels, meals, ground transportation, local guides and entrance fees
Fully escorted trip
Departure: Tangbi Festival:
October 3 – 17, 2011

Land Cost: per person
8 + participants : $4885
6-7 participants : $5285

Attendees at a festival
Photo: Jeff Davis
Masked dancer at festival
At the bazaar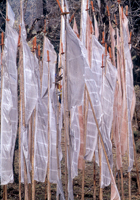 Prayer flags at Dochu La
Photo: Jeff Davis