Rajasthan &

the Pushkar Camel Fair
A Photo Cultural Journey with photographer Brenda Tharp
The Indian sub-continent is more than a repository of an ancient civilization; it is a lively and ever changing work in progress. Visit a bazaar and groups of women in saris of seemingly impossible combinations of magenta and turquoise vie for visual attention with their sisters in silk of purple and yellow. Every surface is used to catch the eye: Overripe heroes and heroines loom in enormous proportions from film billboards, mud walls are decorated with traditional geometric patterns, camel pelts are clipped to produced swirling paisleys, cattle horns are painted and decorated with brass bells, cycle rickshaws are covered in painted parrots, landscapes, slogans and decorated with chrome studs.
On this photographic journey we will take time to experience and photograph the fascinating aspects of daily life in contemporary and traditional India.
Outline Itinerary – 2011
Day 1: November 3 — Depart U.S.
Depart your home city on an overnight flight to Delhi.
Day 2: November 4 — Arrive Delhi, India
Arrive Delhi late in the day. Met on arrival and transfer to our hotel. The Siddarth
Day 3: November 5 — In Delhi
In the morning we have an orientation meeting over breakfast, then visit sites in "Old" Delhi, followed by sites in "New" Delhi.
The Siddarth (B, L, D)
Day 4: November 6 — To Pushkar via Jaipur
Early this morning we fly to Jaipur and then drive to Pushkar and settle into our private camp. In the afternoon we go on a walking tour of the town and fair grounds. Return after sunset photography.
Private Tented Camp (B, L, D)
Day 5, November 7 — In Pushkar
The fair grounds - with thousands of camels, horses and cattle - along with the town bazaar are a photographer's dream. We have the whole day to explore and photograph. We head out pre-dawn to take advantage of the rising sun and will stay out till sunset, just returning to our private camp for lunch and some rest from the mid-day sun.
Private Tented Camp (B, L, D)
Day 6: November 8 — To Jamba
After sunrise photography we drive to the Dera Sand Dune Retreat, built on top of a 130-foot stabilized sand dune with panoramic views of the Thar Desert. The region known as Jamba is populated by the fascinating Bishnoi tribes.
Dera Sand Dune Retreat (B, L, D)
Day 7: November 9 — In Jamba
We have the full day devoted to exploring the photographing the traditional Bishnoi tribes.
Dera Sand Dune Retreat (B, L, D)
Day 8: November 10 — To Jodhpur
One more sunrise to to photograph the dunes before starting our drive to Jodhpur, on the edge of the Thar Desert.
Taj Gateway (B, L, D)
Day 9: November 11 — In Jodhpur
The day to photograph Rajasthan's "Blue City," a major stronghold of the Rajputs. Visit the beautiful fort and palace, as well as the Clock Tower bazaar.
Taj Gateway (B, L, D)
Day 10: November 12 —To Jaipur
This morning we fly to Jaipur, the capital of Rajasthan. This afternoon we will visit the City Palace and Jantar Mantar in the "Pink City."
Alisar Haveli (B, L, D)
Day 11: November 13 — In Jaipur
This morning we head out to catch sunrise on the Hava Mahal, then continue to the Amber Fort and the old city's colorful bazaars.
Alisar Haveli (B, L, D)
Day 12: November 14 — To Agra
Depart early morning for Agra. En route we stop to photograph the Ghost city of Fatepur Sikri. We will be at the Taj Mahal for sunset. Being our last full night in India, we gather tonight for a festive farewell dinner.
Trident (B,L,D)
Day 13: November 15 — Day in Agra/To Delhi
Photograph the Taj at sunrise. We have the rest of the morning in Agra to further explore and photograph the city. In the afternoon we fly or drive to Delhi and after dinner transfer to the International Airport for the overnight return flight.
(B,L,D)
Day 14: November 16 — Arrive USA
For detailed day-to-day itinerary or to book this trip please call us at 1-800- MY INDIA.
Brenda Tharp


Brenda Tharp is an award-winning freelance photographer who specializes in location, nature and travel photography. She has llama-trekked, sea-kayaked, flown in helicopters and hot-air balloons, cycled, and hiked to get her photographs. Those images have appeared on the pages of Alaska Airlines, Audubon, Northwest Traveler, Sierra, and Sunset magazines and in books by Chronicle, Michelin, National Geographic, Sierra Club, and others. Brenda co-starred in several episodes of Canon's TV program Photo Safari.

An accomplished writer, Brenda wrote and photographed Creative Nature and Outdoor Photography, Rev. Edition (Amphoto Books), and photographed the award-winning books Muir Woods: Redwood Refuge, and Marin Headlands: Portals of Time, (GGNPC). She has written photography articles for several outdoor photography magazines and online e-zines, including Outdoor Photographer, Photo Migrations, Apogee, and TakeGreatPictures.com.

Brenda is highly regarded as a photography instructor and tour leader. Her passion for traveling and photography combine to make her trips an exciting, enriching adventure.
For more on Brenda, please visit her website.
Please go to our slide show page to see images from Rajasthan and the Pushkar Camel Fair .
Other Photo Cultural Journeys:
Suggested Extensions:
Other itineraries featuring Rajasthan:
Call us toll free at 1-800 MY INDIA (1-800-694-6342) or email us to request a detailed day-to-day itinerary.
"You really went the extra mile too, in getting us to locations in time for sunrise or sunsets so that we could get those "KILLER" shots."


- William Barton



At Pushkar Fair
Features:
Pushkar Camel Fair
Camel Safari
Bishnoi Tribal Villages
Sunrise/sunset on Taj Mahal
Jodhpur, Jaipur, Delhi
It's Included:
Medical & evacuation insurance
All accommodations
All meals
Deluxe Camp at Pushkar
All ground transportation, local guides and entrance fees
Fully escorted trip;
- photography expert Brenda Tharp and
- a cultural guide

Departure: 14 Days
Nov. 3 – 16, 2011
Land Cost:
8+ participants: $5880

Sunset at Pushkar Fair
At the Pushkar Fair
"How thoroughly I enjoyed the tour of Rajasthan! It was a visual and photography treat for the senses."
- Anne Ainsworth, IL

Qutab Minar, Delhi
AThe dunes beyond Dera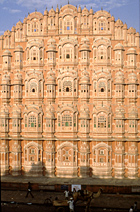 Hawa Mahal, Jaipur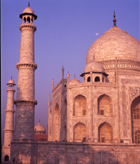 Taj Mahal, Agra