No one can traverse the whole of India and not feel the palpable difference between North and South. The dominant features of South India are its tropical climate with lush-green tropical vegetation in the coastal areas, as well as its architecture, cuisine, culture, languages and lifestyle. In spite of repeated exposure to foreign influences, these elements have, at their core, remained essentially Dravidian.
On this Southern sojourn, traversing through Karnataka and Tamil Nadu, we explore the unique and breathtaking architecture, sculpture, ancient culture and legacy left by the Pallava, Chola and Pandya dynasties. We also visit the hill station, Kodaikanal with its eucalyptus forests, the former French colony of Pondicherry and the sandalwood capital, Mysore. We will see how India has absorbed the influences of so many waves of colonizers and yet has remained distinctly and proudly Indian.
Outline Itinerary
Day 1: Depart USA
Day 2: En route to South India.
Day 3: Most international flights arrive Bangalore very early in the morning. You will be met on arrival and transferred to your hotel for a few hours of rest. After breakfast we drive to Hassan via the 56-foot statue of Sravanabelagola, said to be the world's tallest monolithic statue. In the afternoon visit the Halebid temples. Traditional Indian "Welcome" dinner.
Day 4: Visit Belur temple site and continue to Mysore, the Sandalwood City. Take a walking tour of the old bazaar.
Day 5: Visit sites in and around Mysore. This evening we will be treated to a traditional Kodava cuisine dinner in a private home.
Day 6: We have the morning to further explore and shop in Mysore, before we drive out to Bangalore.
Day 7: Today is travel day as we fly to Coimbatore and drive to the relaxing hill station of Kodaikanal, set amidst water-falls, lakes, wooded slopes and precipitous rocky outcroppings. Kodaikanal also has the distinction of being the only hill station in India set up by Americans (missionaries).
Day 8: We have the day in which to leisurely enjoy Kodaikanal's natural beauty. Optional day hikes and walks will be set up for those wishing to explore the area.
Day 9: We will drive along the Western Ghats to the temple town of Madurai; our route takes us past tea estates, coffee plantations and spice gardens.
Day 10: We have the day to explore one of the most important temples in the South. The Meenakshi temple of Madurai is estimated to receive 10,000 pilgrims every day.
Days 11 & 12: Tanjore and Trichy were the Chola Dynasty's strong hold, with forts, palaces and temples built in the pre-Christian era. The Brihadishwara temple complex (in Tanjore) is a UNESCO World Heritage Site. We will spend these two days exploring this region.
Day 13: Today, we drive to the French-influenced town of Pondicherry, situated on India's eastern seaboard.
Day 14: The French relinquished control of their former colony just 45 years ago and "Pondy" (as it's locally known) still bears its European heritage. The local cuisine has a distinctive French influence as does the architecture of homes, boulevards and city buildings.
Days 15 & 16: We end our journey at the lovely Fisherman's Cove, situated on the Bay of Bengal, where we have two relaxing days in which to enjoy this beach resort, with optional excursions to the ancient temples of Mahabalipuram (another UNESCO World Heritage Site) and Kanchipuram.
Day 17: The day is at leisure at the beach resort. After a sumptuous farewell dinner we depart for Chennai airport and our flight back to the USA.
Day 18: Arrive USA
Suggested Extensions:
Other itineraries featuring South India:
Call us toll free at 1-800 MY INDIA (1-800-694-6342) or email us to request a detailed day-to-day itinerary.
Of course India is so rich in temples, monuments, forts, palaces, history, exotic sights and sites — but best of all it has kind, warm, gracious, friendly people.
- Jerry Fonseca, CA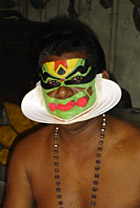 Kathakali dancer
Features:
Hill station Kodaikanal
French Pondicherry
World Heritage sites in Tanjore/Trichy
Madurai & Mysore
Luxury hotels

It's Included:
Medical & evacuation insurance
All hotels, meals, ground transportation, local guides and entrance fees
Fully escorted trip
Departures:
Nov. 23 to Dec. 10, 2007
Jan. 18 to Feb. 4, 2008


Land Cost:
From: $4899 per person
Special Note:
The November departure dovetails with our North India tours – "Pushkar Camel Fair" and "Soul of India"
Special Note:
The January '08 departure dovetails with our "Nagaur Camel Fair" tour.
Meenakshi temple, Madurai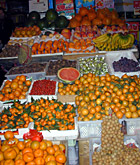 Fruit stall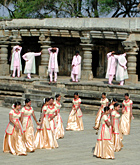 Folk dance performance